Conferences, Team Building & Training.
Connect, inspire, and absorb knowledge in the perfect environment!
Connect & learn in Tranquillity
Whether you're looking to hold a single day training event, regular business get togethers, team building courses or a fully programmed multi day conference – we have the space.
Our Events block is clean, modern and inviting with multiple breakout spaces built into its design.  
Our commercial kitchen is at the ready as the perfect preparation space to provide quality food to your delegates.
A range of spaces to make the most of
Our dedicated event space will seat up to 50 delegates at tables.  
We can provide tables, table cloths, chairs, flip chart and a TV. 
The event spaces acoustics are such that meetings can be held without a PA system.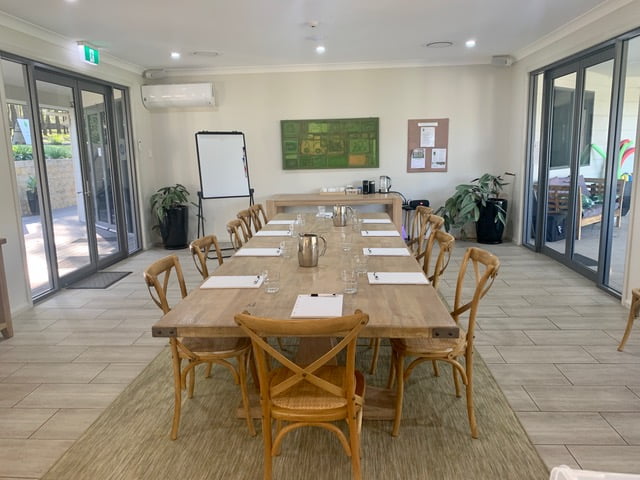 Intimate dining area/boardroom
If you'd like to run with a more team based approach, our dining table will seat up to 16 people in a boardroom type setting.  
We can provide refreshments, notepads and any other items you may need by arrangement.
There is also space to set the TV up, easily viewed from the dining table.
If it's all about atmosphere, sitting by the pool with an outlook to the gumtrees and our vineyard, creates the perfect space for more creative and collaborative events.
Having three seperate areas is also perfect for events needing to break into multiple groups or teams.
FULL DAY DELEGATES PACKAGE
From $55 per person
Available for 8 to 24 guests
Prices are FROM amount shown and subject to change. Please use this as a guide only and confirm with our booking and event coordinator for final pricing.
| | |
| --- | --- |
| Extra rooms | $180 per room |
| Continental Breakfast (drop off) | $25 per person |
| Hot Breakfast with chef | $40 per person |
| 3 Course Dinner with chef | $85 per person |
| BBQ Dinner | $60 per person |
| Yoga | $140 per hour |
| Indoor mineral pool, steam room, jet spa & gym | $25 per person |
| BYO | Free |
We'd love to design a package to suit your needs for day training and multi day conferences and events.  Please get in touch to discuss your needs.
Visit Nu Leaf Retreat
hunter valley
Copyright © 2023 Nu Leaf Retreat